— Jim Walsh has graciously pointed out that I'm using a mix of county and city stats here. That's fixed. Here's his article on recent crime increases in Camden. — thanks for your patience, sd
This post is long past it's expiration date, but I've been trying to supplement the poor data comparisons used in the article with better ones.
Camden's Metro Police (and specifically, Dan Keashen, the director of public affairs in Camden County) have done an excellent job promoting the Metro police department. Last week, Chief Scott Thomson went to speak with the Speaker of the House. That visit comes at an odd time locally, with a statement by the Latino Leadership Alliance of New Jersey critiquing the department, and the community still mourning after a particularly violent December and a heartbreaking increase in murders in 2016. It also comes at an interesting time nationally, in which Republicans may be seeking to distance themselves from Trump, but may also be seeking political cover as they turn to a nativist strategy that alienates and demonizes people of color. 
As for local context for the performance of the Metro Police, thank goodness for the Camden NAACP. New chapter president Darnell Hardwick routinely points out that both media and the Camden County PR effort to cherry-picks comparisons. Here's Hardwick in a recent article about the unit's 2016 numbers: 
Darnell Hardwick, president-elect of Camden County's NAACP chapter, said he's "deeply disturbed" by the climbing homicide rate, namely because of the financial resources already allocated to address the issue and claims of low morale from former officers he's spoken with.
"Go drive down the street of Broadway," he said of one of the main routes into downtown Camden. "There's still a drug trade. You see prostitutes looking for drugs … Boots on the ground is going to help the overall (crime) rate but if someone wants to kill someone, they are gonna do it."
When Camden witnessed 49 people violently killed in 2011, Thomson — then chief of the since-disbanded city police forced — said Camden was in a "public safety crisis."
"This year, are we in a public safety crisis now?" Hardwick wondered.
The article continues to note that violent crime decreased: 
While homicides increased, the number of other violent crimes actually decreased, city officials said. There were about 4,200 violent crime victims in 2016 — down from 5,263 in 2013, Cappelli said.
But take a look at New Jersey State Police numbers, and that looks very misleading. Violent crimes have been virtually constant from 2014 to 2015 to 2016 (I'm using the provisional Jan-Dec 2015-2016 numbers):




Also important to note is that Camden crime is down less than New Jersey as a whole (though Trenton — one of the better South Jersey comparisons — is also seeing increases). 




So wait. Violent crime in Camden is down compared to 2013, flat compared to 2014, slightly down compared to 2015 (but by less than the state, and with murders up). This is why we release full data sets — so politicians don't get to pick the number that makes them look best. It's also why, in order to understand these numbers, they'd need to be put not just into historical context, but into the context of other communities.
Nevertheless, it's hard to look at that homicide number (47, with 8 in December with the force at full strength) …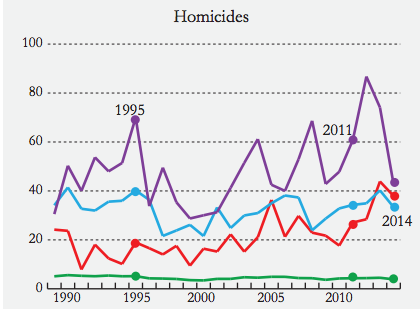 …then read something like April Saul's latest: 
Taisha Mercado's goal last for last Friday's sentencing hearing of the teenage girl who shot and had killed her 13-year-old son was a simple one:
She wanted to testify–without crying in front of her son's killer, Casche Alford, who had pleaded guilty to aggravated manslaughter, and was facing a 30-year sentence.
"I just don't want to cry," said Mercado, "because I want them to hear what I have to say."
That's heartbreaking.
There's still room for nuance in discussing the Metro — I attended Sen. Booker's Criminal Justice Forum in the city, and Chief Thomson did seem to be pushing for important training to avoid violence and lapel cameras. But those gains (and the wider focus on community policing) need be put in the context of a wider movement towards a whiter force less familiar with the city, an increase in excessive force complaints, and the day-to-day interactions that cause Camden folks (particularly young latino and black men) to feel as if they have a target on their back in their own city. 
That's what makes visits by the President, the governor, or trips to Washington feel so hollow. When my students tell me they don't wear hoodies driving to class because when they do, they get pulled over, there's still a lot of work to be done. 
But there's a second reason the trip to Washington rankles — and that's because it gives political cover. The Republicans are in the middle of a turn back to Nixonian politics of "law and order." The president-elect blatantly conflates the troubles of poor communities with race, and stigmatizes people of color in doing so. Nominees for key positions within the administration have expressed deeply troubling racial sentiments, and the progress of movements such as #BlackLivesMatter towards putting police brutality in the public eye seems to facing a white lash. 
Maybe that's the perfect time to reach out to Republicans seeking to distance themselves to this nativistic politics. But I doubt it. Instead, it feels like a trip to Washington to meet with the Speaker of the House gives political cover for those whose actual policies would dramatically undermine urban communities and urban policing. 
Policing in Camden, and across the county, has so far to go. And we're already facing the backlash from how far we've come.