I'm honored today to have a guest post from Gayle Christiansen. Gayle is a resident of the Cooper Grant neighborhood who both works and plays in the city. All views expressed here are her own.
We live in a country made cognizant of racism after the loss of Trayvon Martin, Michael Brown, Tamir Rice, and many others. The Black Lives Matter movement is gaining momentum; Beyonce's Superbowl and Kendrick Lamar's Grammy performances place it prominently in the mainstream. With racial justice at the front of our national consciousness, it was extremely troubling to hear Liberty Property Trust developers describe their Camden Waterfront Plan with Cooper-Grant Neighborhood Association leaders at a meeting before their first planning board review. 21st century real estate development should challenge racism, segregation, and classism. New developments, especially ones proposed at such a large scale, need to lead a city into the future, not embody fears of the past.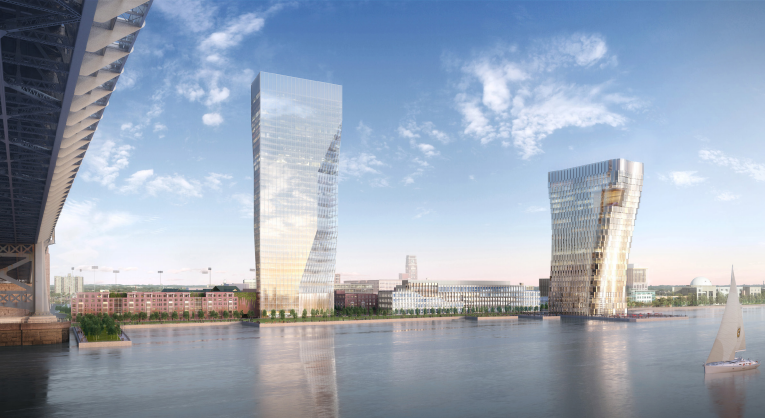 One of the lead real estate developers for Liberty Property Trust explained he approaches his projects through the eyes of a child seeing the world. To a child, anything is possible, the world is ones making, there are no limitations, just newness and discovery. Over two and a half hours of explaining Liberty's Camden Waterfront Master Plan, it became painfully apparent that the child whose vision I was imagining, a child like many of the Centerville students I taught a decade ago, is not at all the same child whose vision this developer described. No, his child is most definitely white, middle class, suburban, insulated from the greater world, and used to applying certain formulas guaranteed for "success." I heard no sense of wonder or courageousness. And I saw little future possibility for the child I imagined.
In this meeting I heard the belaboring of old theories (trickle down development, gentrification) and ideas (the waterfront hotel is also in this plan). Space and time should be given to the broader economic development concerns of this project. I would include in this discussion the race to the bottom and business poaching philosophy and tax scheme that will not provide greater monetary support for the city's infrastructure, police, or schools, but strain these dilapidated structures with needs from additional workers. (I believe Rasheda Weaver has already started this conversation in a previous post.) I, however, want to use this space to share with a broader audience how uncomfortable I felt from my place of privilege in this Liberty Property Trust meeting. I was taken aback by the ignorance underlying this development.
What I heard is the creation of a white, middle class enclave or bubble with the best view of Philadelphia and easy, but probably not entirely used, access to public transportation. I heard a deepening of the two Camden divide. The new hotel will probably be the caliber of a Hilton or Marriot with rooms geared toward mid-level managers. The price point of these types of hotels is out of reach of most in the city, myself included. I heard an interest in local restaurants having a space in the development because millennials, who will make up the majority of the development's workforce, think "ethnic food" is hip. Liberty Property Trust will run a shuttle from the Walter Rand Transportation Center to Market Street to ensure the safety of all employees even though the Riverline has both a Cooper Street and Aquarium stop. (Concern about the safety of a hypothetical 26-year-old white female employee was used at least twice in the conversation about commuting.) The running of this shuttle service will mean less foot traffic on the downtown commercial corridors, decreasing the spillover effects on current and potential businesses. The companies located in the development will fund an Ambassadors program in order to keep out troublemakers and to escort employees to their cars located in a new garage just across the street. The new roads will be privatized because Liberty Property Trust can take better care of them than the city. Proper maintenance is important because their clients require greater "fit and finish and sparkle" than the city can provide. Once the short term construction jobs end, of which there was emphasis placed on the needing to drug test potential workers as a part of the discussion of local hiring, the remaining jobs for Camden residents will mostly be maintenance, landscaping, and hotel housekeeping. A training or apprentice program through the local high schools was briefly mentioned, but no discussion of how this will actually take place. (In my opinion, starting and running a training program for high school students is more than a full-time job.) Yes, the waterfront promenade will be turned into a grand park (the funding is still short for the entire project and will have to come from county, state or federal resources), but there was no apparent linkage under the Ben Franklin Bridge to the North Camden waterfront park being planned at the old prison site. A special nod was given to the one building being designed by a black Philadelphia firm, but at this point in the presentation it was hard to believe this was done for any other reason than meeting a quota.
This project is not transformational in its scope nor innovative in its Norman Foster designed buildings. To me, an innovative and transformational 21st century mega-project would look at the 77,000 city residents, mostly black and brown, and include their vision for their city. A project would be designed to lift all boats while bringing in new middle class workers and residents. It would provide a connection to longstanding city neighborhoods and communities that goes beyond an agreement to abide by the city's complete streets legislation. Difficult, of course. Impossible for Liberty Property Trust given their perspective that casts the city's residents as dangerous, deviant, and exotic.
So what do we as residents do? In Camden, proposed projects seem to be inevitable; a plan announced is a plan approved. We need to take a step back and educate ourselves about the type of development we want to see. And then, even from our place of little power, we work together to educate those who make the decisions about what a city that benefits everyone looks like. Maybe we argue that if a project meets as many interests as possible, it will become the first project to really take-off and encourage future development. We also invite developers to our neighborhood events, our places of worship, and our dinner tables so we can break down stereotypes and stigma. We ask developers to challenge their client's perceptions of the city, not create a built environment catering to their fears. And we ask developers to explain to their shareholders the importance of a socially responsible development and ask them to be a part of the crusade to end injustice, even if it means they receive a smaller return on investment. For the new businesses coming to the city, we ask them to join us in our neighborhoods, outside of the 9-5, Monday-Friday work week. Come see how much more Camden has to offer. And finally, and perhaps most difficultly, those we implore those in places of power need to consider those who live here as their constituents. In selecting real estate developers, demand more for the people here. If this scares developers away, we shouldn't want them in the first place. Finally, if people in power cannot support the needs of people who live here, we must make different choices in the next election.
The meeting with Liberty Property Trust ended on a positive note; the project manager agreed to meet routinely with members of the Neighborhood Association. I want development to happen downtown and on the waterfront and hopefully these meetings can set precedence for how future developers approach working in the city. This time we may be told by the developers that they heard we want x, but they are going to do y. Next time perhaps the conversations amongst all parties will take into account of multiple visions before the plan's ink is already dry.